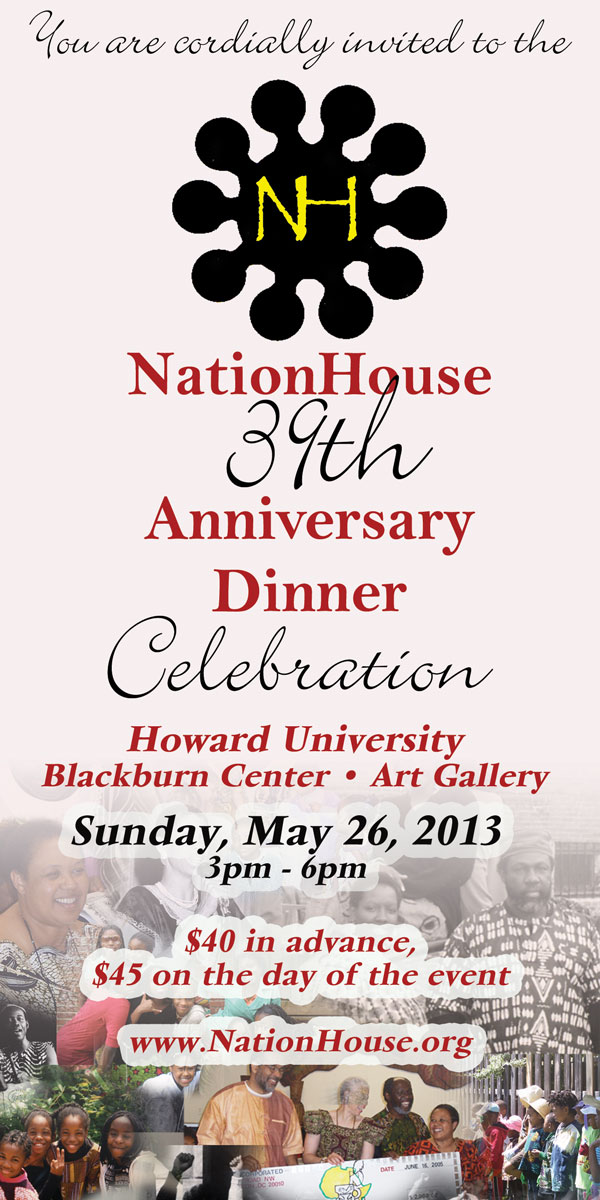 Get Ready for Nation House's 39th Anniversary HOMECOMING Celebrations with five amazing events!
Including: ASA! (5/21); AYO Concert! (5/23);NationHouse meet and greet happy hour (5/24); 39th Anniversary Dinner (5/26); and the Race for the Race Registration KICKOFF and Health Fair(6/1)!
GET YOU TICKETS NOW!
ASA!
5/21 dance/aerobics class created and taught by Akosua Akoto $10 adv. $15 day of(Nationhouse daughter and Alum!)
AYO Concert!
5/23 feat. Ngoma (drum orchestra), Ajabu (dance group), Azanto/Hip hop squad $5 (dance), and Taratibu (step group)
NationHouse Alumni, friends and family Meet and Greet Happy Hour!
5/24 Happy hour meet and greet at The Beautiful Tap & Parlour! FREE!
Nation House 39th Anniversary Dinner!
5/26 Dinner banquet celebrating Nation House's 39th Anniversary in Howard University's Blackburn Art Gallery, 3pm-6pm
$40 adv. $45 day of
NationHouse's Race for the Race KICKOFF & Health Fair!
6/1 Open registration for individuals and team/families plus a health fair promoting great health for Afrikan families!
The Race for the Race is a fundraising race for NationHouse honoring Harriet Tubman with 5k and 3k races. The race culminates in an amazing health fair with lively demonstrations, free health assessments, games, vendors and food! 11am!
Can't make it? You can still DONATE!
If you cant come to any of the events Please donate to Nation House as we celebrate our 38th anniversary! We need all the support we can get as we continue on this beautiful road of educating our Afrikan children! 
Tickets purchases will be available separately, and in a bundle. All DONATIONS and contributions go towards Nation House programming and our dedication to the education of Afrikan children.
This is going to be an awesome week long extravaganza! Dont miss out!