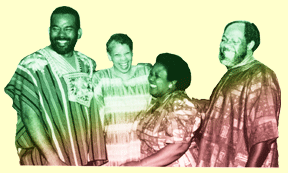 NationHouse was founded in July 1974 in Washington, D. C.  NationHouse grew out of the student activism of Howard University community in the late 1960s.
We are one of the oldest independent Afrikan centered schools in the United States and in the DC metropolitan area serving the specific needs of children of Afrikan heritage from pre-school to twelfth grade.  Today, NationHouse continues to serve families in the development and enculturation of responsible youth who are committed to their families, their community and their Afrikan culture/heritage.
Currently, NationHouse maintains three fully functioning programs.  Watoto School, serving pre-kindergarten through fourth grade students and Sankofa Institute, for fifth and sixth grade students, are the major programs.  The Afrikan Youth Organization (AYO) provides after school activities for students.
Our graduates from Sankofa Institute, eighth grade and twelfth grade have gone on to be successful students at their matriculating high schools and colleges respectively.  Amongst our alumni, we have, successful mothers, fathers, husbands, wives, doctors, future lawyers, teachers, musicians who have graduated at the top of their classes.  Our graduates have attended B. Banneker H.S., Howard University, U.D.C., Hampton University, Spelman, Morgan State University, Coppin State, Cheney State University, etc…
True to its dedication to the preservation and transfer of Afrikan heritage, NationHouse has counted within its community families from all over Afrika and the diaspora; from Ethiopia, Azania, Kenya, Nigeria, Ghana, Mali, Senegal, Zimbabwe, Liberia and Gambia; the Virgin Islands, Trinidad and Jamaica; from Los Angeles to Miami, New Haven to Chicago and back again; from Anacostia and the Gold Coast, suburban Maryland and Northern Virginia; and from all economic strata – professionals, students, and the unemployed.  The common thread has been conscious will to protect, preserve and transmit our unique cultural heritage to our children and the broader world community.